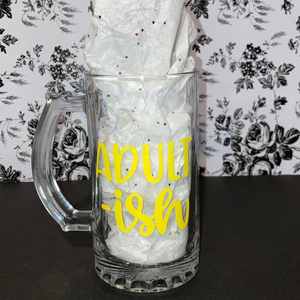 Looking for something that shows off your mood?? 😂 Look no further! 
*This sports mug will be sold as is, no custom options available.*
Details: 16oz Sports Mug with yellow vinyl & ready to ship today!
Kare Instructions: Please gently wash by hand and pat or air dry. Do not scrub, do not soak in water, and do not put in a microwave or dishwasher to ensure the best possible care of your vinyl design! Please remember that our Kreations are handmade and must be treated with tender love & care!
Returns: Due to the nature of our Kreations, we do not accept refunds or exchanges. However, if there is any problem with your order, please contact us.