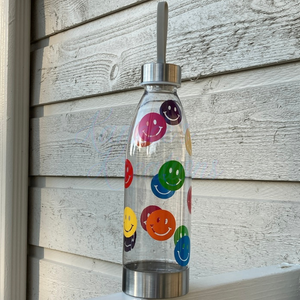 Made with high-quality, BPA-free plastic, this water bottle is both durable and safe for everyday use. The stainless steel cap and bottom add an extra touch of style and functionality, ensuring a secure and leak-proof seal.
The clear design allows you to easily monitor your water intake and with a generous 22oz capacity, this water bottle is perfect for staying hydrated on the go. Whether you're at the gym, at work, or running errands, the Smiley Face Water Bottle will keep you refreshed and smiling throughout the day.
*This glass will be sold as is, no custom options available.*
Details: 22 oz clear water bottle with red, orange, yellow, grass green, light blue, purple & pink vinyl design shown. BPA free & ready to ship today!
Kare Instructions: Please gently wash by hand and pat or air dry. Do not scrub, do not soak in water, and do not put in a microwave or dishwasher to ensure the best possible care of your vinyl design! Please remember that our Kreations are handmade and must be treated with tender love & care!
Returns: Due to the nature of our Kreations, we do not accept refunds or exchanges. However, if there is any problem with your order, please contact us.