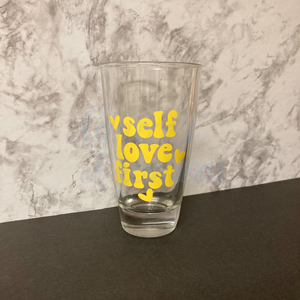 Designed to remind you of the importance of self-care and self-love. Made with high-quality, durable glass, this classic tumbler is perfect for enjoying your favorite beverages in style.
With a generous 18 oz capacity, this glass can hold plenty of water, juice, smoothies, or any other beverage of your choice. The thick glass walls provide insulation, keeping your drinks colder for longer, while also ensuring the glass is strong and sturdy.
*This glass will be sold as is, no custom options available.*
Details: 18oz Thick Bottom Glass with yellow vinyl & ready to ship today.
Kare Instructions: Please gently wash by hand and pat or air dry. Do not scrub, do not soak in water, and do not put in a microwave or dishwasher to ensure the best possible care of your vinyl design! Please remember that our Kreations are handmade and must be treated with tender love & care!
Returns: Due to the nature of our Kreations, we do not accept refunds or exchanges. However, if there is any problem with your order, please contact us.