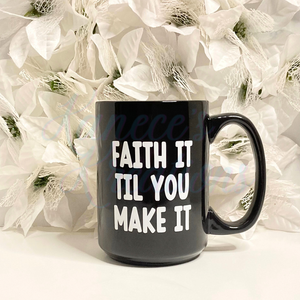 No more FAKE it til you make it instead, FAITH it til you make it! 
This mug is a perfect gift & reminder for you, your family, friends & loved ones!
Details: 16 oz Ceramic mug with white text design. Design on one side of the mug.
Kreation Time: 1-2 weeks
Kare Instructions: Please gently wash by hand and pat or air dry. Do not scrub, do not soak in water, and do not put in a microwave or dishwasher to ensure the best possible care of your vinyl design! Please remember that our Kreations are handmade and must be treated with tender love & care!
Returns: Due to the nature of our Kreations, they may exhibit minor imperfections. We do not accept refunds or exchanges. However, if there is any problem with your order, please contact us.